The Simple Small Business Starting Guide to SEO
Date posted
February 1, 2022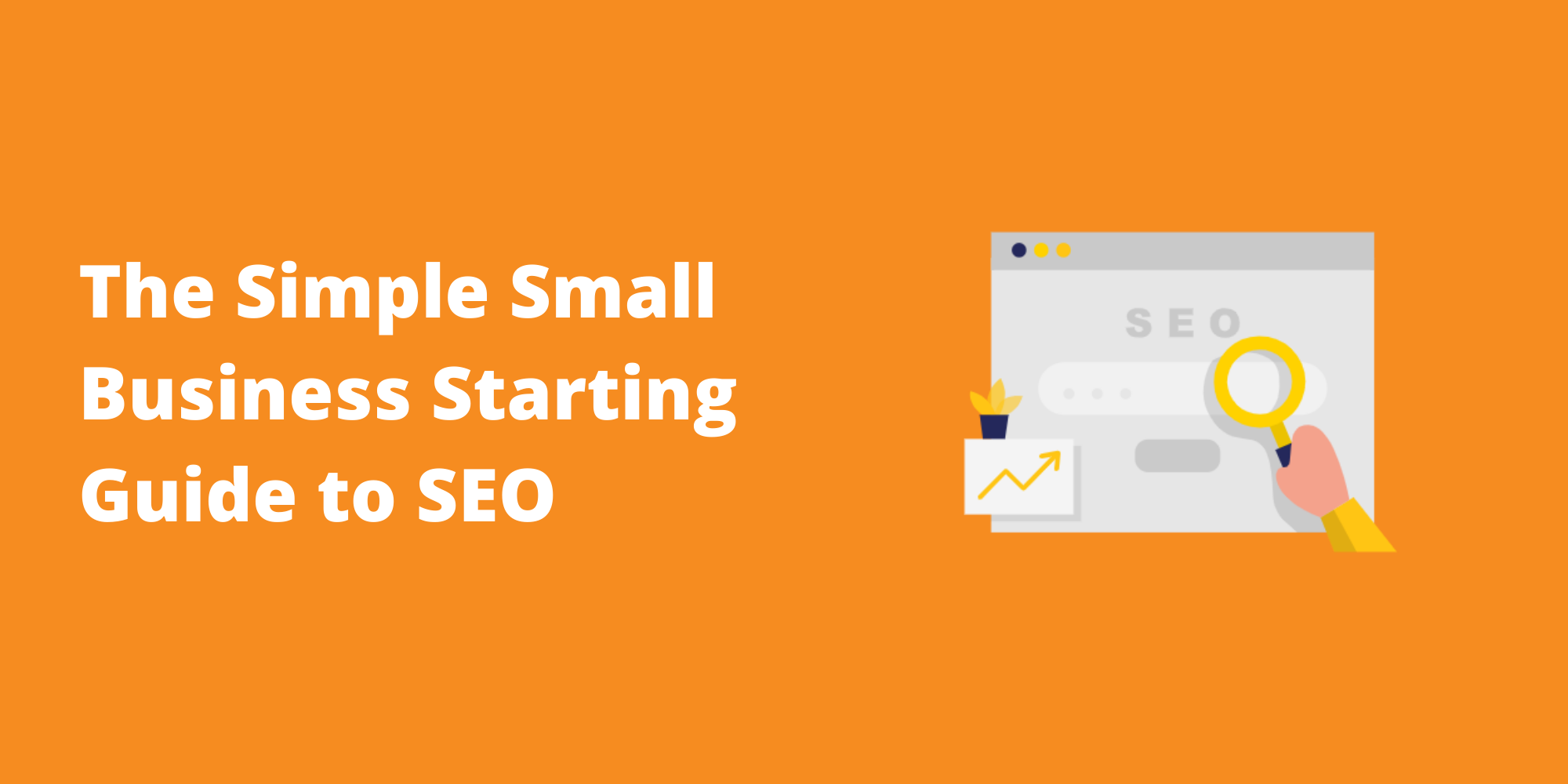 A ton of people search online to find the answers to their problems every day, but how is it stored? How do you make sure your business appears over your competitors in the search results? How can you increase your company's visibility on search engines like Google to generate more leads?
We partnered with Solomon Thimothy and Evan Lee, B2B Growth and Inbound Marketing specialists from OneIMS, to create simple steps to starting SEO (Search Engine Optimization) for your business. To listen to the entire episode, click the play button below or continue reading The Simple Small Business Guide to SEO to help improve your businesses rankings on Google and appear above your competitors.



What is SEO?
SEO stands for Search Engine Optimization. It's the process of building your website to increase its visibility when people search for things relating to your business on Google, Bing and other search engines. The better ranking your website has in the search results, the more likely you are to attract and retain existing customers to your business. In other words, SEO helps your business get found on the internet.
For example, if you are a local business that provides plumbing services in Fort Myers, then you can use SEO strategies to get your website to appear in search engine result pages for the term "Plumbers in Fort Myers" or "Water heater repair Fort Myers."

How does SEO work?
Imagine that the internet is a very large dictionary with lots of information added to it every day. Now, a search engine like Google organizes that information and provides relevant results to users based on what they search for. It does this by "crawling" every website on the internet and saving the content that it reads, which is called an index.
When a user searches for information, the search engine uses a complex algorithm to select what it believes to be the most accurate and useful list of results. This algorithm includes things like the words you use on your web pages, to the structure of your website and even where else your website is referenced on the internet. The results can include web pages, educational articles, images, videos from YouTube, local business listings from Yelp… the list goes on and on.



Why is SEO important?
While social media, paid advertising and other marketing campaigns can generate traffic to websites, the majority of online traffic is driven by search engines. Did you know that there are 3.5 billion searches performed every day on Google? That means that no matter your industry or size of business, people are searching for your business online.
With all of these people searching online, here are five important reasons why SEO is important for your business and how it can affect your website:
1. Improves your company's visibility and helps your target audience find your website.
2. Boost your businesses credibility and authority in your industry.
3. Effects your brand and trust in a positive way through inbound marketing.
4. Allows you to stay ahead of your competitors and potentially steal their customers.
5. Improves your website traffic, engagement and conversions through acquiring local leads.
By now you're probably asking yourself how do you get started with SEO? I bet you're thinking you'll need some advanced skills in website development to create an effective SEO strategy that works. Well, that's where we come in. Below we've compiled five simple steps to help you create a foundation to improve your businesses SEO, with no coding skills required.

Step 1: Optimize Your Website
Broken links will affect your search results, and can impact your overall SEO. Having too many broken links on a single website might indicate to a search engine that the website is either neglected or outdated. As long as you're constantly checking for broken links or fixing broken links when you notice them, you should be able to maintain a high quality website.

Website URL structure
Every webpage should have a unique URL structure. This is what a user types in to get to a specific page on your website. A well-defined URL structure helps search engines navigate and archive your website effectively. They also are a good way to signal to a user what the web page is about. It's a good idea to always make sure all of your URLs are lowercase and best to use hyphens when connecting words in a web page URL.
Another bonus of keeping your URLs standardized is it will help to prevent linking errors within the site and from outside of the site.

Page speed
Page load speed is the time it takes for a page to load when a user visits it. It makes a big difference between a website's ranking and overall performance. A slow page load speed can significantly impact the overall performance of a website. It can make it difficult for users to navigate your website and reduce the number of pages each user views.
The biggest problem with a slow loading speed is that users will quickly leave the site, increasing the bounce rate. Which in turn, Google considers as a significant negative signal in SEO.

Mobile optimization
Mobile SEO is important because it ensures that any user that visits your website from a mobile device, such as an iPhone, will have the same experience as if they were visiting from a desktop. Important factors of mobile search engine optimization can include how your website is designed, the size of the font, the padding or white space between sections, to even how large your interactive elements are such as buttons or links.
Most importantly, if you were not aware of this already, Google now uses mobile-first indexing where it predominantly uses the mobile version of the content for indexing and ranking.

Step 2: Setup Google My Business
Google My Business (GMB) is a free profile that you can set up to help promote your business in the search results and on Google Maps. This official Google tool can easily help you to rank higher in your specific geographical location. Not only that, but the tool also gives you an enormous amount of options to manage and improve your business listings.
By making a Google My Business listing you can connect with your customers better and find insights about how they interact with your business on Google. You can add extras like photos, videos, events, business hours, services and much more.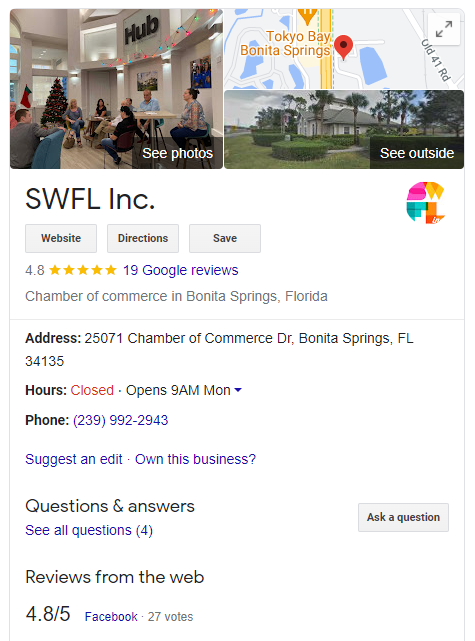 Step 3: Create Local Listings
There are many factors that can influence your SEO, but there is one very important step that anyone can setup: NAP. NAP stands for Name, Address and Phone number. For small businesses, details like your address, phone number and operating hours should be correct at all times.
All you have to do is start listing your business in online business directories such as Facebook, Apple Maps, LinkedIn, Bing, Yelp, Yellow Pages and more. This is called building citations, and it's a critical piece of a local SEO strategy. By building citations, you can make sure that you appear in local results when people look for businesses in your area.
If you haven't already, a great local listing for your business to be included in is the SWFL Inc. Online Business Directory. Sign up your business for free to help your organization rank higher.

Step 4: Start Creating Content
SEO can be a bit technical, but at the heart of the process is the creation of quality content that provides value to an audience. Ultimately, it's just connecting users with the stuff they want to read. So where do you start? Think about the concerns your customers might have or ask your sales team what questions your customers keep asking.
Now that you have some ideas, lets go over five basic tips to help you develop your content.


1. Decide on the type of content you want to create
Will it be a blog post on a specific topic? How about creating an infographic that your customers can share on social media? You can even create an educational video explaining the differences between two common problems your audience faces. Having a diverse amount of content will allow you to appeal to a various amount of your target audience.


2. Determine your audience
Knowing who your audience can help you select the best type of content to create. It can also help you figure out what's relevant to write about. If you're able to understand your audience demographics, you can use it to create personas that address their specific needs.
If you didn't know, Facebook has a built in Insights tool to help you understand your target audience so you can create content that resonates with them.


3. Establish goals
What is the goal of your content? What are you looking to gain? Do you want to increase your sales conversions, or are you just looking to establish an identity?
No matter that you goals might be, the content that you create should help you reach them. Take the time to develop achievable goals and create a strategy for how your content can help you reach those milestones.


4. Develop a calendar
Creating content can be time consuming. Making sure you have a strategy for when and how you will create each content piece is essential. Creating a content calendar can help you establish a process for creating content consistently, planning ahead to get organized and even keep your content on a consistent schedule.
Here is a great example video from Facebook on how to create a content calendar.



5. Evaluate your content
Once you've started creating content you will be able to evaluate it. Simple things like impressions, page views and click rates don't tell the whole story.
You need to ask yourself deeper questions like:
Am I receiving more conversions from the content?
Are types of content are people engaged with the most?
Is the content helping me achieve the goals I set?
Once your content has been created, you need to make sure it's in the proper format for search engines to find it.

Step 4.5: Optimizing Your Content (On-Page SEO)
This will be the most technical of the steps that we cover, but we will break it down and make it as simple as possible. In order for search engines like Google to correctly crawl the content you create, you need to implement proper On-Page SEO. In other words, On-Page SEO is the process of optimizing your website's content for search engines.
While creating content here are a few quick On-Page SEO checklists to follow:

Title Tags
The title tag is the short text placed into the head section of a website's code. Most web builders have a section for this and require it to be completed. Just like when you were younger and wrote an essay at school, without a title, the teacher (or Google) might not know what it's about.

Header Tags
Header tags are usually placed within the different sections of a web page. They are used to distinguish the different topics on the page. For example, the different header tags for this article are: What is SEO? How does SEO work? Why is SEO Important? And so on and so on. As a general rule of thumb, header tags should start with H1 and continue on down to H6 depending on the order of importance.

Meta Description
The meta description of a web page plays a critical role in SEO. A meta description is the small blurb that appears underneath your website on the results page that includes information about your web page. Meta description helps search engines understand your page better. This is because it describes your web page contents in a single sentence, which helps users decide whether they want to click on your link or not. It's very important to make sure to write a meta description relevant to your audience.

Image Alt Texts
When a search engine crawls your website, it cannot actually see your images. What it will read, is the image alterative text (or alt text). This describes the appearance and function of an image to the search engine or user. Without proper image alt texts, search engines won't know what types of images or pictures you have on your website.

Internal Links
Internal links are one of the most important factors when considering On-Page SEO. An internal link is any link from one page on your website to another page on your website. Without proper internal links, both your users and search engine won't be able to navigate your site successfully.

Step 5: Share Your Content (Off-Page SEO)
Once you have started to create content, it's important that you start to share your content as well. Getting people talking about you and your business will help your website to grow, whether that's directly or indirectly.

Backlinks
The best way to share your content is to have links on other websites pointing back to your website, specifically the content that you have created. When other people link to your website from their own websites, this can signal to search engines that you're well known in your industry and have an authoritative brand.
When creating backlinks from other websites, try to make sure that it is relevant to your business industry. For example if your company makes donuts, make sure that the backlink is from a website about baking or desserts.

Reviews and ratings
Google My Business, along with Facebook and websites like Yelp, allows users to leave a review for your business. If it has a good rating, people will be more likely to click through to your website from either of these platforms. Think about all of the times you look at reviews before making a purchase decision. It's just as important to respond to all of your reviews as it is to manage them.
If for whatever reason you receive a negative review, react by responding and addressing your customer's problem. Even if you're unable to solve the problem directly, prospective customers might see that as caring and view your business in a positive light. In other words, you were able to turn that a bad situation into a good one.
To learn more about how to address your customer reviews, check out our previous podcast episode on Online Reputation Management.

Social media
While social media can't directly influence your SEO, it can impact a lot of factors that affect your SEO rankings. Is it capable of driving traffic to your website? Can it help you share links to your sales pages that in turn drive more traffic to your website? If so, the best place to start sharing your content is social media.
If you share your content through social media and get them to visit your web page, your target audience will spend more time reading it. All of this time spent reading your content sends a signal to search engines that your website is valuable. And if they think your content is more valuable, they will show it to more people which in turn will allow more leads to find your content.

Conclusion
SEO for a small business can be a daunting task. It can be very time intensive and take a while for your efforts to pay off. But by following our 'Simple Small Business Starting Guide to SEO' you'll create a solid foundation for your small businesses success.
If you'd like to learn more from local industry experts about digital marketing, social media, technology and business development, check out our most recent podcast episodes here. To start promoting your business and connecting with new customers, join SWFL Inc. for free today!